Facebook invented the 'like' button as a subtle way of sending a message, short of adding a comment, that you supported whatever it was your friend posted on the social network. It was like a virtual nodding of your head at whatever they shared, a "Yeah, I agree with that," without saying a word.
Over time, the 'like' became a little more flexible, adding a few other emotive options. You can now add a range of options from a heart, laughing, angry, or even sad. It also happens to be how many people measure whether or not a post was worth the time it took to create, the metric being, how many 'likes' did it get?
Soon, however, the 'like' may be no more, at least not as a measure of popularity. That's because Facebook is apparently testing what happens when they remove the 'like count' from posts.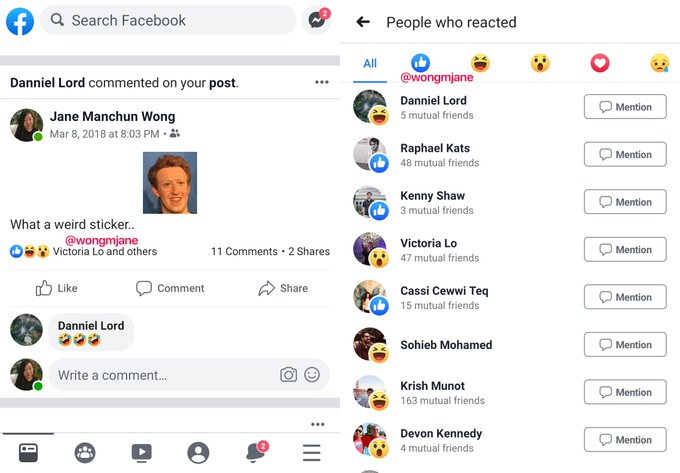 The test was discovered by app researcher Jane Manchun Wong, who spends a lot of time digging under the hood of the apps you use everyday, to discover unreleased features that are being tested. And it isn't just a hunch–Facebook has confirmed to Techcrunch that it plans to test removing the feature.
I reached out to Facebook, but did not immediately receive a response.
Facebook has already begun testing this on Instagram (which was also discovered first by Wong), and apparently the company views it as a success because it has continued to roll it out to additional countries. According to Verge, users in the test have responded positively overall.
The problem with 'likes.'
Here's why this is interesting. Facebook helped created a world where people obsess over how many likes their selfies and photos of their pets receive. For many, it's become a signifier of self-value. It even has a name: The 'like' culture.
Now it appears the company clearly realizes that the adverse effects of that culture have real world consequences for people. Anxiety over how much attention a social media post receives is a real thing. Depression and bullying online are also real. The best case scenario–at least for the users–is that they simply stop using social media site. The worst-case-scenario is, well, far worse.
Why engagement matters.
Part of the problem for Facebook is that if people fear that their content might not get very many 'likes,' they could be less interested in sharing. If they don't share, overall engagement goes down. And engagement is extremely important to Facebook. Engagement means that people are using the site, which means they're able to view the target ads that make the company a lot of money.
My guess is that most people won't love this change at first, but it'll be better for all of us in the long run. If it helps people become less addicted to the instant gratification that comes with little red notification dots and 'like counts,' it's a step in the right direction.
If it helps people become a little less obsessed with what other people think about the curated view into their lives that they share online, we'll all be better off. In that regard, I'll give Facebook credit for helping people's mental health, even if it may also helps the company at the same time.
By: Jason Aten
Source: Facebook Is Considering a Huge Shift That Would Dramatically Change How You Use the Social Network (It's a Good Thing)
Between Facebook stock in freefall and the platform being used to destabilize democracy we thought it a better time than ever to explore David Fincher's blockbuster hit The Social Network. Get ready to learn the true story about Facebook in all it's gory details. If you enjoy what you see and hear don't feel shy about subscribing, liking or sharing our channel. It helps us produce more contact. Join the Serfs!
http://www.patreon.com/theserfs
Or find us on social media:
https://www.weareserfs.com
https://twitter.com/Theserfspodcast
https://www.instagram.com/serfspodcast/
https://www.facebook.com/serfspodcast
https://itunes.apple.com/ca/podcast/t…
https://www.soundcloud.com/theserfs
Sources:
https://www.thedailybeast.com/faceboo…
http://www.mtv.com/news/2437629/the-s…
http://www.slate.com/articles/news_an…
https://www.businessinsider.com/is-th…
https://www.thedailybeast.com/mark-zu…
https://www.wsj.com/articles/SB100014…
https://www.cnn.com/2012/05/29/tech/s…
http://ew.com/article/2010/10/12/soci…
https://jezebel.com/5654633/the-socia…
Keywords: facebook,mark zuckerberg,the social network,the social network debunked,the social network fact check,the social network true story,social network true story,is the social network true,the social network fact vs fiction,social network fact vs fiction,fact check social network,facebook documentary,facebook what happened,facebook stock,facebook popularity,zuckerberg,zuckerberg stock,facebook scandal,facebook news,aaron sorkin,david fincher,facebook loss