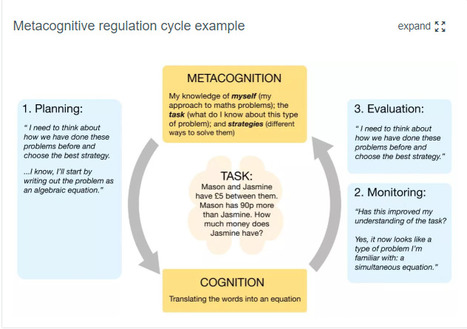 What does this guidance cover?
This guidance report is relevant to the teaching of all students, within any subject area. Most of the examples included are from Key Stages 1 to 4, where the research is strongest. It introduces a simplified framework for self-regulated learning and metacognition.
In due course, we will publish a more detailed research review exploring the subject in more depth; this is an area of academic discussion that may be of interest to some teachers. Here, however, we have simplified the frameworks to allow for ease of understanding and use in real-world settings—we focus on what the evidence says about what teachers can do to develop these skills. Often the research evidence is generic and hard to interpret; by giving specific examples we have tried to bring the work alive for teachers (but this means they are less directly supported by strong evidence).
This guidance draws on a review of the evidence about self-regulated learning and metacognition led by Professor Daniel Muijs and Dr Christian Bokhove (University of Southampton). It is not a new study in itself, but rather is intended as an accessible overview of existing research with clear, actionable guidance. More information about the review and the process is at the end of the review. Some key references are included here; for those wishing to explore the subject in more depth, the forthcoming report will contain a more comprehensive reference section.
Learn more / En savoir plus / Mehr erfahren:
https://www.scoop.it/t/21st-century-learning-and-teaching/?&tag=Metacognition