Q+A: How Often Should I Post Content – Robin Kamen
A. This is one of the most frequent queries I receive about content marketing, as marketers try to figure out their optimal publishing cadence. The answer is that there are lots of right answers to the question of how often to post content; read on to learn about two of NewsCred's best practices:
If you are new to content marketing:
Start by posting two pieces of content a week to your hub, and drive traffic to them throughout the week via email, social, and paid media channels. Then increase your posts to three to five a week, and keep going until you find a cadence that drives the results that match your business goals, whether they are sign-ups for your newsletter, qualified leads for your sales team, or frequency of purchase for your e-commerce business.
If you are an established content marketer:
A/B test frequency and mix up content types – long-form, lists, Q+As – to understand what best drives the results you are looking for. Test one variable at a time so you can isolate the factors that are most and least effective, and then optimize accordingly.
That's one of the most common questions customers ask us, and something every content marketer wonders, at some point.
And it makes sense.
In a world where everyone seems to be constantly churning out content, you may be feel like you're not doing enough.
However, there's an upside and a downside to what I'm about to tell you.
The upside is: There is no universal "right amount" of content to publish. There's no magic publishing cadence for achieving content marketing success.
Rather, the key is to figure out how much high-quality content you can produce on a regular basis – and then maximize it through your distribution channels to reach your goals.
And that's the downside: You have to find your own best publishing cadence – based upon your goals – through testing, trial, error, and optimization.
Identify a Topic for a Long-form Blog Post (Top-/Middle-of-Funnel Content)
We've found that the content-scaling process works best when you start with a long-form article. All content relies on a strong topic and good writing. By beginning with a long-form article, you'll build a strong foundation for content scaling, since you can pull copy from it to create other assets (your video script, webinar content, social media posts).
The topic of your article should be core to your business, vision, or mission. Since blog posts attract both new and old readers, this an opportunity to give both audiences a better sense of who you are. The article should showcase your expertise in your field and offer valuable information. In addition, it should appeal to the majority of your target audience.
One other thing to consider is the timeliness of your topic. Ideally, it should have a hook that makes it current and compelling. But it should also be evergreen enough so all the assets you create will have a long tail.
At NewsCred, one of our key focus areas is proving the ROI on content marketing. We're committed to helping other marketers do the same, and our Demand Generation Manager, Liam Moroney, saw an opportunity to show others how to set up Google Analytics to track content marketing conversions.
The result: He wrote a long-form blog post entitled, "Google Analytics: The Complete Guide to Setting up Your Content Hub to Measure Conversions."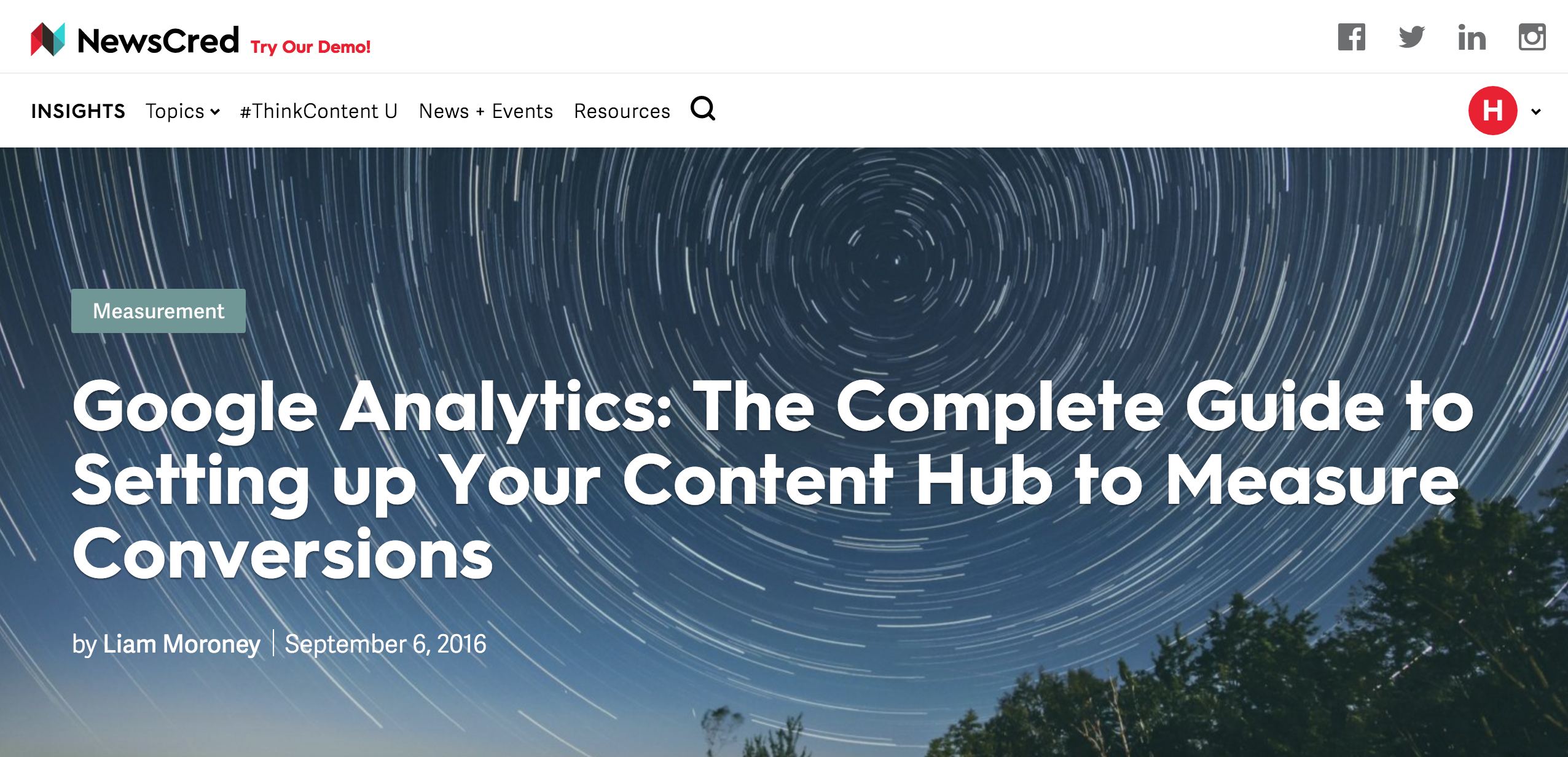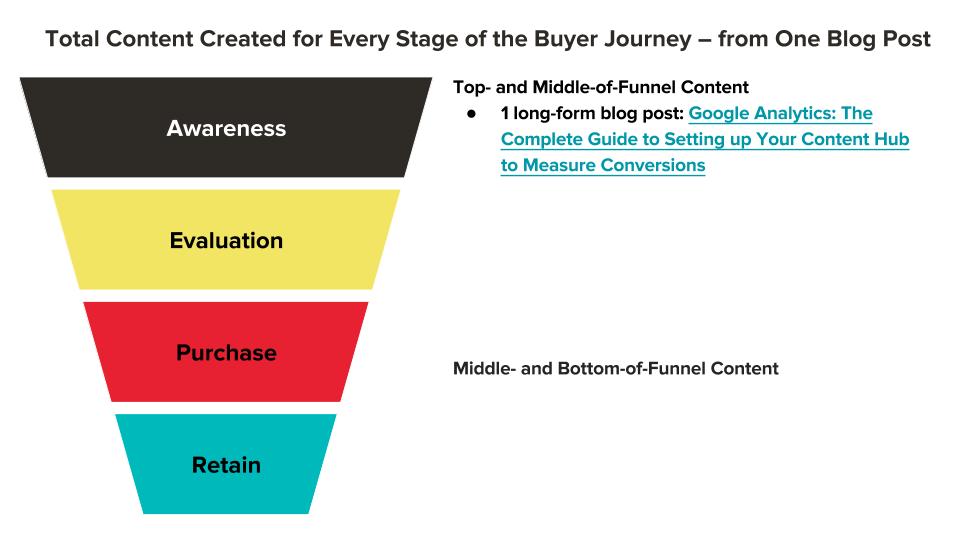 Actionable Next Steps for Marketers:
Brainstorm what you can write about authoritatively, at length, that is core to your business/vision/mission.
Determine whether the topic is timely yet evergreen.
Evaluate whether the topic will appeal to the majority of your target audience.
Repurpose the Article for Other Parts of the Buyer Journey
Liam's long-form blog post performed well on our website and newsletters: 22% of its readers were leads. This confirmed our hypothesis that it would be a good candidate to repurpose for other parts of the buyer journey.
Turning a Blog Post into a Webinar (Middle- and Bottom-of-Funnel)
The first way we repurposed the blog post was by turning it into a webinar.
At NewsCred, webinars are key to our lead generation strategy. When people sign up for a webinar, they're looking to learn about a particular topic, and they see your brand as a thought leader. This signals that they trust you and are interested in building a deeper relationship.
Webinars are also great for re-connecting with prospects who have not engaged with you in a while. Since webinars are about sharing information – and not making a sales pitch – they're a good way to remind people about your brand while offering them value.
Liam saw a webinar as a chance to provide more context around his blog post, which was very tactical with step-by-step instructions. The webinar offered him the ability to better explain the concept of using Google Analytics to measure content marketing conversions, with real-time examples.
Using his post as a jumping-off point, Liam created a presentation deck with the topics he planned to illustrate with live demos. He drafted a script and did three full run-throughs, until he had refined his talking points and could speak naturally, off-script.
In the two-and-a-half weeks leading up to the webinar, we sent three emails to NewsCred's full database of about 100,000 users. We received 1,500 registrants, and of those, nearly 500 attended – and 45% were top-rated leads.
After the webinar, we followed up with all the attendees. We sent them the original Google Analytics blog post and gave them access to the webinar video that we had recorded.
Actionable Next Steps for Marketers:
Strategize how you can best utilize a recorded webinar. What methods will allow you to capture the most leads? Will you share the video on social? Or gate it on your site so people have to register to view it?
Turning a Blog Post into a Video (Top-of-Funnel) 
Every marketer knows that video creation is an imperative. By 2019, videos will account for 85% of search traffic in the U.S. Social networks prioritize videos in users' feeds. And accordingly, marketers must create videos to get their messages out.
As is the case for many marketers, video creation is a challenge for us at NewsCred. We don't have an in-house team that produces videos. Nor have we consistently worked with an agency to create branded videos.
Yet, based off the success of the long-form Google Analytics blog post and webinar, we felt a video would be a valuable asset. Since the post and webinar are very in-depth and tactical, we felt we needed something that quickly explained the topic – namely, why measuring content marketing conversions is important, and how marketers can do so. We felt that a short, explainer video would do the trick.
After weighing our options, Alexa Biale, NewsCred's Brand Marketing Manager, decided that it would be too costly and time-consuming to contract an agency to create branded videos. In the long-run, we would be better-off figuring out an in-house system that we could use on an on-going basis.
First, we mapped out the timeframe in which we'd have to complete a video, from start to finish, to ensure it was a truly scalable solution. We identified who on our team would be responsible for writing and editing the script, and who would be responsible for storyboarding, designing and producing the video. We estimated the number of hours we'd need for every step. And we set a goal of completing the video in three full days.
Then, we brainstormed what features we'd need from a video program to allow us to meet that target.
Our Senior Designer, Jeremy Ford, and Marketing Operations Manager, Steve Katz, determined that the ideal program must:
Be user-friendly enough for anyone to create professional-quality video – no design or video experience required.
Allow us to use our brand's fonts and colors, plus our own music selections.
Support video embeds.
Offer mobile capabilities.
Be affordable – ideally less than $100 per month for a multi-user plan.
Your kindly Donations would be so effective in order to fulfill our future research and endeavors – Thank you