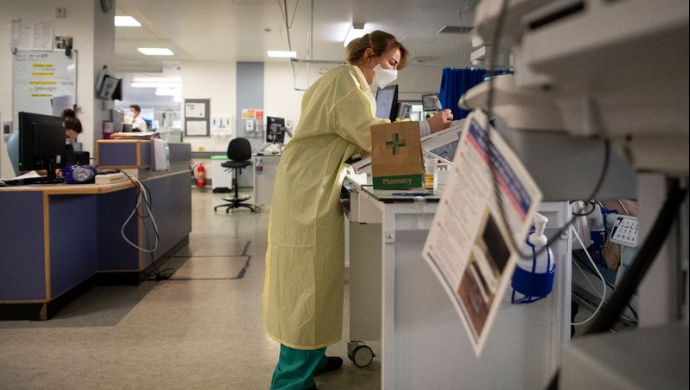 New modelling for the government's Sage committee of experts has highlighted the risk of a "substantial third wave" of infections and hospitalizations, casting doubt on whether the next stage of Boris Johnson's Covid roadmap can go ahead as planned on 21 June.
Government sources suggested the outlook was now more pessimistic but stressed that a decision would be taken after assessing a few more days' worth of data on the effect that rising infections are having on hospitalizations.
The prime minister is due to announce on Monday whether the lifting of the remaining restrictions – nicknamed "freedom day" by anti-lockdown Tory MPs – will have to be delayed.
Johnson is understood to be personally frustrated at the prospect of delaying the reopening, but a No 10 source said there were now clearly signs for concern in the data.
Key ministers and officials are expected to discuss a range of options on Sunday, when Johnson will still be hosting the G7, including a two- to four-week delay, as well as the possibility of a watered-down reopening that keeps some rules in place.
A Whitehall source said it was "broadly correct" that the outlook was now more pessimistic. "Cases are obviously higher and they are growing quickly," the source said.
Prof Neil Ferguson, of Imperial College London, said modelling updated this week suggested there was a risk of a surge in infections and hospitalizations that could rival the second wave in January.
Johnson sounded markedly less confident than in recent days when he was asked about the case for a delay as he visited a wind farm in Cornwall on Wednesday as part of the buildup to the G7 summit.
"What everyone can see very clearly is that cases are going up and in some cases hospitalizations are going up," he said. "I think what we need to assess is the extent to which the vaccine rollout, which has been phenomenal, has built up enough protection in the population in order for us to go ahead to the next stage.
"And so that's what we'll be looking at. And there are arguments being made one way or the other, but that will be driven by the data. We'll be looking at that and we'll be setting it out on Monday."
The prime minister had previously repeatedly said he had seen nothing in the data to justify a delay.
Ferguson said the cases of the Delta variant were now doubling in less than a week, close to what was seen before Christmas when the Alpha variant took hold and sent infections soaring in January to a daily peak of 68,000. What is unclear is how long the doubling will continue with so many adults vaccinated, and what proportion of new cases will turn into hospitalizations and deaths.
"There is a risk of a substantial third wave," Ferguson said. "It could be substantially lower than the second wave or it could be of the same order of magnitude, and that critically depends on how effective the vaccines are at protecting people against hospitalization and death."
He suggested there may be a case for postponing the reopening to get more shots into arms and reduce the size of any summer surge. "Clearly you have to be more cautious if you want measures to be irreversibly changed and relaxed," he said. "Having a delay does make a difference. It allows more people to get second doses."
Ministers have been encouraged by the enthusiasm with which younger people are taking up the opportunity to get their jab. The NHS announced that 1 million people had booked appointments through its website on Tuesday as eligibility was extended to 25- to 29-year-olds.
The next two to three weeks will be crucial for scientists on Sage to work out what the rise in hospitalizations – and potentially deaths – might look like in the months ahead.
Ferguson said: "One of the key things we want to resolve in the next few weeks is do we see an uptick in hospitalizations – we are seeing it in some areas – matching the cases, and what is the ratio between the two, because vaccination has substantially changed that."
Evidence is firming up around the Delta variant being 60% more transmissible than the Alpha variant, with estimates ranging from 40% and 80%. The variant is somewhat resistant to vaccines, particularly after one dose.
While Ferguson believes we may see fewer deaths in the third wave compared with in January, the latest modelling does not rule out what he called a "disastrous" third wave if transmission and vaccine resistance are at the higher end of the best estimates.
The latest official data showed 7,540 new confirmed cases of the virus in England. Hospitalizations are not yet rising sharply nationwide, though they are surging in hotspot areas including Greater Manchester.
Chris Hopson, the chief executive of NHS Providers, said trusts in hard-hit areas were confirming that the vaccines provide good protection against the virus.
"There is a growing sense that thanks to the vaccine, the chain seen in previous waves between rising infections and high rates of hospital admissions and deaths has been broken. That feels very significant," he wrote in a blogpost for the British Medical Journal.
But Hopson warned that the NHS was already "running hot" in many areas, and an increase in Covid admissions would set back efforts to tackle the long backlog of treatment for other health problems that has been caused by the crisis.
By: Heather Stewart, Ian Sample and Jessica Elgot
Source: Sage modelling warns of risk of 'substantial' Covid third wave | Health policy | The Guardian
.
Critics:
Recommended preventive measures include social distancing, wearing face masks in public, ventilation and air-filtering, hand washing, covering one's mouth when sneezing or coughing, disinfecting surfaces, and monitoring and self-isolation for people exposed or symptomatic. Several vaccines have been developed and widely distributed since December 2020.
Current treatments focus on addressing symptoms, but work is underway to develop medications that inhibit the virus. Authorities worldwide have responded by implementing travel restrictions, lockdowns and quarantines, workplace hazard controls, and business closures. Numerous jurisdictions have also worked to increase testing capacity and trace contacts of the infected.
The pandemic has resulted in significant global social and economic disruption, including the largest global recession since the Great Depression of the 1930s. It has led to widespread supply shortages exacerbated by panic buying, agricultural disruption, and food shortages. However, there have also been decreased emissions of pollutants and greenhouse gases.
Numerous educational institutions and public areas have been partially or fully closed, and many events have been cancelled or postponed. Misinformation has circulated through social media and mass media, and political tensions have been exacerbated. The pandemic has raised issues of racial and geographic discrimination, health equity, and the balance between public health imperatives and individual rights.
The COVID-19 pandemic has resulted in misinformation and conspiracy theories about the scale of the pandemic and the origin, prevention, diagnosis, and treatment of the disease. False information, including intentional disinformation, has been spread through social media, text messaging, and mass media. Journalists have been arrested for allegedly spreading fake news about the pandemic. False information has also been propagated by celebrities, politicians, and other prominent public figures. The spread of COVID-19 misinformation by governments has also been significant.
Commercial scams have claimed to offer at-home tests, supposed preventives, and "miracle" cures. Several religious groups have claimed their faith will protect them from the virus. Without evidence, some people have claimed the virus is a bioweapon accidentally or deliberately leaked from a laboratory, a population control scheme, the result of a spy operation, or the side effect of 5G upgrades to cellular networks.
The World Health Organization (WHO) declared an "infodemic" of incorrect information about the virus that poses risks to global health. While belief in conspiracy theories is not a new phenomenon, in the context of the COVID-19 pandemic, this can lead to adverse health effects. Cognitive biases, such as jumping to conclusions and confirmation bias, may be linked to the occurrence of conspiracy beliefs.
See also
References
Zoumpourlis, Vassilios; Goulielmaki, Maria; Rizos, Emmanouil; Baliou, Stella; Spandidos, Demetrios A. (22 October 2020). "The COVID-19 pandemic as a scientific and social challenge in the 21st century". Molecular Medicine Reports. 22 (4): 3035–3048. doi:10.3892/mmr.2020.11393. ISSN 1791-2997. PMC 7453598. PMID 32945405.
"Novel Coronavirus – China". World Health Organization (WHO). Retrieved

9 April

2020.
"COVID-19 Dashboard by the Center for Systems Science and Engineering (CSSE) at Johns Hopkins University (JHU)". ArcGIS. Johns Hopkins University. Retrieved

13 June

2021.
"WHO: 10% of world's people may have been infected with virus". AP NEWS. 5 October 2020. Retrieved

12 November

2020.
CDC (11 February 2020). "Coronavirus Disease 2019 (COVID-19)". Centers for Disease Control and Prevention. Retrieved

6 December

2020.
"Coronavirus (COVID-19): General advice". nhsinform.scot. Retrieved

17 February

2021.
"The Great Lockdown: Worst Economic Downturn Since the Great Depression". IMF Blog. Retrieved

23 April

2020.
To, Kelvin Kai-Wang; Sridhar, Siddharth; Chiu, Kelvin Hei-Yeung; Hung, Derek Ling-Lung; Li, Xin; Hung, Ivan Fan-Ngai; Tam, Anthony Raymond; Chung, Tom Wai-Hin; Chan, Jasper Fuk-Woo; Zhang, Anna Jian-Xia; Cheng, Vincent Chi-Chung; Yuen, Kwok-Yung (2021). "Lessons learned 1 year after SARS-CoV-2 emergence leading to COVID-19 pandemic". Emerging Microbes & Infections. 10 (1): 507–535. doi:10.1080/22221751.2021.1898291. ISSN 2222-1751. PMC 8006950. PMID 33666147.
Sun J, He W, Wang L, Lai A, Ji X, Zhai X, et al. (2020). "COVID-19: Epidemiology, Evolution, and Cross-Disciplinary Perspectives". Trends in Molecular Medicine. 26 (5): 483–495. doi:10.1016/j.molmed.2020.02.008. PMC 7118693. PMID 32359479.
Maxmen, Amy (30 March 2021). "WHO report into COVID pandemic origins zeroes in on animal markets, not labs". Nature. 592 (7853): 173–174. Bibcode:2021Natur.592..173M. doi:10.1038/d41586-021-00865-8. PMID 33785930. S2CID 232429241.
Hu, Ben; Guo, Hua; Zhou, Peng; Shi, Zheng-Li (6 October 2020). "Characteristics of SARS-CoV-2 and COVID-19". Nature Reviews. Microbiology. 19 (3): 141–154. doi:10.1038/s41579-020-00459-7. ISSN 1740-1526. PMC 7537588. PMID 33024307.
Graham, Rachel L.; Baric, Ralph S. (19 May 2020). "SARS-CoV-2: Combating Coronavirus Emergence". Immunity. 52 (5): 734–736. doi:10.1016/j.immuni.2020.04.016. ISSN 1074-7613. PMC 7207110. PMID 32392464.
Adhanom, Tedros. "WHO Director-General's remarks at the media briefing on 2019-nCoV on 11 February 2020". World Health Organization (WHO). Retrieved

24 October

2020.
Lovelace Jr, Berkeley (11 February 2020). "World Health Organization names the new coronavirus: COVID-19". CNBC. Retrieved

23 October

2020.
Perlman S (February 2020). "Another Decade, Another Coronavirus". The New England Journal of Medicine. 382 (8): 760–762. doi:10.1056/NEJMe2001126. PMC 7121143. PMID 31978944.
Cyranoski D (March 2020). "Mystery deepens over animal source of coronavirus". Nature. 579 (7797): 18–19. Bibcode:2020Natur.579…18C. doi:10.1038/d41586-020-00548-w. PMID 32127703. S2CID 211836524.
Zhang T, Wu Q, Zhang Z (April 2020). "Probable Pangolin Origin of SARS‑CoV‑2 Associated with the COVID-19 Outbreak". Current Biology. 30 (7): 1346–1351.e2. doi:10.1016/j.cub.2020.03.022. PMC 7156161. PMID 32197085. "Outbreak of severe acute respiratory syndrome coronavirus 2 (SARS‑CoV‑2): increased transmission beyond China – fourth update"

(PDF)

. European Centre for Disease Prevention and Control. 14 February 2020. Retrieved

8 March

2020.