When I first moved to Berlin from the U.S. two-and-a-half years ago, I couldn't believe how much of the art was garbage. I'm not being catty, I swear: I mean art made from refuse pulled directly from the city's orange bins.
Wherever I went to see art—luxurious private collections; former spy towers–turned–artist squats; an art school vernissage—I saw trash, too. Memorable works include a defunct television dressed in orange spray paint and glitter gazing at visitors' groups from the bushes at Teufelsberg, and a dirty doll's head staring ominously from a multicolored pile of rubbish at a masters program's student showcase last spring.
Early into living here, I asked a friend studying at the art school Weißensee what the deal was. Why were so many artists using what I delicately called "recycled ready-mades" in their work? She explained that the answer was twofold: The school didn't provide students with art supplies, and—whether out of financial necessity, cheeky anti-establishment rebellion, or both—her peers turned to making art out of trash.
In hindsight, I shouldn't have been so surprised. The beauty of Berlin—much like its trash art, perhaps—lies in its ugliness. Unlike nearby capitals like Paris, Vienna, or Prague, Berlin's historic architecture was decimated in the bombings of World War II.
Today, the cityscape feels something like modern ruins: The few remaining sections of the Berlin Wall are overlaid in layers of constantly refreshed murals and graffiti; the gigantic former Tempelhof airport was repurposed into a massive public park, complete with tarmacs and hangars.
Berlin is a city of opposites. In recent years, it's seen an economic upswing, followed by an ongoing stream of new citizens—a mix of privileged migrant "expats" (hello) and asylum-sanctioned refugees. Simultaneously, a wave of tech-based startups began to build their offices here, encouraging successful and large tech corporations like Tesla, Google, and Amazon to at least consider doing the same. Meanwhile, many in the booming millennial generation in Berlin make negligible wages.
Hang Linton and Laura Lulika at BALTIC
In the years since that conversation with my friend from Weißensee, I've seen neighborhoods of the city significantly change—clubs close and open; trendy apps come and go. Yet all along, this particular character of art made from trash has remained. It seemed to signal a longstanding Berlin ethos of anti-capitalist, down-'n'-dirty artist squat punk that drove people like me here in the first place. It's an ethos that—as Elon Musk builds his factories in neighboring Brandenburg—many consider under threat.
Recently, the artist Maxine Puorro, also a student at Weißensee, told me that the decision to find inspiration in artifacts "gleaned" from Berlin's streets is not so much rebellious as it is practical. Puorro's works incorporate whimsical, oversized plants in large papier-mâché pots, adorned with found objects.
It's a matter of "not wanting to spend too much money," Puorro said, but it's also about using environmentally conscious materials. And, since Weißensee—like other German institutions—is free, she emphasized that an anti-institution sentiment wasn't (in her eyes, at least) a motivating factor. She noted that in addition to free tuition, the school provides a decent amount of materials, like plaster, and offers workshops.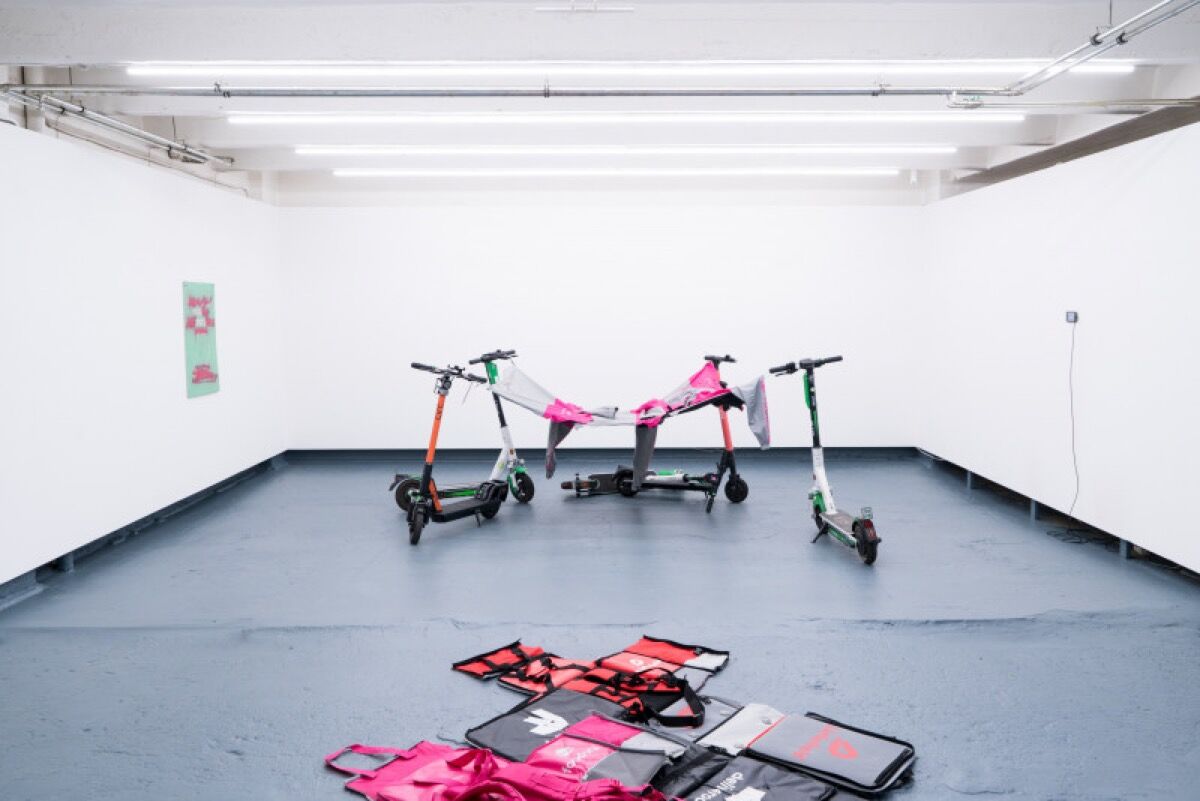 When I spoke to Berlin-based artist duo Hang Linton and Laura Lulika (who perform either under the names Baby Punk + Dr. Babuyoka or Jumpchoke + gungeMUTHA), they agreed with the financial end of Puorro's argument. "As artists from marginalized, working-class backgrounds," they explained, "studio space and materials are expensive, and we still need to find ways to create. Recycling and repurposing came as an ideal way to build on a budget." There's a sense of pride, they continued, "that comes with resilience and being able to survive on very little."
In performances and installations, Linton and Lulika present otherworldly characters in a landscape of mutated detritus, floating somewhere between ritual, fantasy, and nightmare. The notion of survival through challenge and precarity is especially poignant in their works, which center around themes of illness, healthcare, and otherness. Interestingly, Linton and Lulika connect their reuse aesthetic, reminiscent of post–Berlin Wall punks, to contemporary technologies: "We live in gloomy times and yet we recycle these moments into memes," they said.
Through the cooptation of recognizable, used objects, Linton and Lulika reclaim symbols of capitalism and turn them, as they say, into a "meme." Through reclamation and subversion, artists are finding their voices in the collective detritus of society.
Unlike Linton and Lulika, who glean evocative materials first and envision new creative purpose after, local multimedia and conceptual artist
creates recycled ready-mades that are hyper-particular. Focusing on the meeting point between trash and technology, Bartholl—whose work has been shown at prominent spaces including New York's MoMA and Pace Gallery—often selects symbols that highlight the gap between the digital and the physical. His work considers the way technology tends to emerge, become indispensable, then disappear into obsolescence.
"We're so dependent on these devices," Bartholl told me. "It has all our precious, private data on it, and then the moment it breaks, or it's old and discarded…it becomes this toxic trash." In a recent show, "Strike Now!!" at Berlin's panke.gallery, Bartholl employed the near-ubiquitous urban eyesore, the e-scooter. These "colorful icons," as he described them, are "like sculptures scattered all over town and a lot of people hate [them]." Something about the contrasts embodied through Bartholl's practice feels especially of Berlin to me: opposing ideas brought together through breathing new life into disintegrating materials.
Almost nothing embodies this Berlin aesthetic as much as the Boros Collection, a private collection of contemporary art held in a 1943 bunker–turned–nightclub–turned–refined art space. Juliet Kothe, director of the Boros Collection, also recognizes the contrasts between art in Berlin and the popular contemporary aesthetics in other, more commercial markets like London, Paris, New York, and Los Angeles.
Unlike those cities, she explained, Berlin doesn't aim itself towards a commercial art market as much as what she called an "artist art field"—where work is "much more about symbolic value, rather than economic value." This explains, then, why I would see "trash art" in established museums and galleries.
"Berlin is a city of historical disruption," Kothe said. "This is why I love the bunker so much, because I think it symbolically stands for the shift of political systems." Over 75 years old, the bunker that now houses the Boros Collection has seen three different regimes in the city. "The constant reusing, and redefining, and transformation is part of Berlin," Kothe added. "It's inherent."
By: Eliza Levinson
Source: Why Berlin Artists Are Transforming Trash into Sculpture
26 subscribers
Regie und Kamera: Daniel Laufer Konzept: Daniel Laufer und Eva Lezzi Eine Co-Produktion von: DAGESH. KunstLAB ELES und Asylum Arts. A global network for Jewish culture Der Film Asylum in Paradise gibt Einblick in die Arbeit von acht jüdischen Künstler_innen, die ihren (momentanen) Lebensmittelpunkt in Berlin haben. Die Filmaufnahmen dokumentieren sowohl die Arbeitweise der jungen Künstler_innen als auch ihre Produktionsorte wie Ateliers und Ausstellungsräume. Dabei verdeutlichen die Künstler_innen ästhetische Konzeptionen ihrer Kunst ebenso wie jüdische Aspekte ihres Schaffens. Sie erzählen über Berlin als Inspirationsquelle und zugleich über die unverzichtbare internationale Verortung progessiver zeitgenössischer Kunst. Folgende Künstler_innen wurden porträtiert: Ariel Reichman (Bildende Kunst) Benyamin Reich (Fotografie) Anna Schapiro (Bildende Kunst) Liane Aviram (Bildende Kunst) Renen Itzhaki (Tanz, Performance) Evgenia Gostrer (Film) Alona Rodeh (Bildende Kunst) Gergely Lászlo (Bildende Kunst) Alle acht Künstler_innen haben unterschiedliche Migrationserfahrungen. Sie stammen aus Israel, der ehemaligen Sowjetunion, aus England oder Ungarn. Der Titel "Asylum in Paradise" wurde – in Anlehnung an einen Songtitel der Berliner Band Silly – gewählt, um auf die Flüchtigkeit des jeweiligen künstlerischen Standorts, aber auch auf das Asyl, das Kunst bieten kann, zu erinnern.